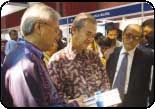 On the 28th and 29th of February, Open University Malaysia (OUM) participated in an Education and Career Exhibition at Kepala Batas, Pulau Pinang. The Education and Career Exhibition was organized by Yayasan Budi Penyayang Malaysia (PENYAYANG), a charity based foundation aimed at helping and giving aid to the less fortunate. Chaired by YABhg. Datin Seri Endon Mahmood, PENYAYANG aims attain its mission by organizing events such as this where its objective is basically to provide information and opportunities, guidance and create awareness on education.
OUM was fortunate to be given the opportunity to display and showcase what the university had to offer especially its academic programmes which caters to the demands of the employment market. Its flexible learning approach i.e. Open and Distance Learning and blended pedagogy, is ideally suited to working adults seeking to improve themselves.

The opening ceremony was launched by YAB Dato' Seri Abdullah bin Haji Ahmad Badawi, Prime Minister of Malaysia and attended by more than 200 guests. OUM was represented by YBhg. Prof. Tan Sri Datuk Dr. Anuwar Ali, President/Vice Chancellor, Prof. Ansary Ahmed, Senior Vice President, Associate Professor Dr. Mansor Fadzil, Vice President and Senior Management.


On 28th February 2004 Open University Malaysia held an Open Day at its Learning Centre at Kolej Islam Pahang Sultan Ahmad Shah (KIPSAS). As part of its activities, there was an Education Exhibition attended by more than 350 visitors.
In addition, a seminar on Open Distance Learning was held. Weaker students were given counseling and advice. Puan Kamariah Mohd Noor, the Registrar also chipped in with a radio interview at RTM Kuantan, announcing the above event. Wide publicity was given through radio, banners and posters on the Open Day.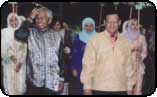 Majlis Malam Gemilang Mahasiswa OUM was the highlight of the day. It was officiated by Yang Amat Berhormat Dato' Sri Haji Adnan bin Haji Yaakob, Menteri Besar of Pahang Darul Makmur. Yang Berbahagia Dato' Sri Hjh Junaini Kassim, wife of Menteri Besar also graced the occasion.